Double-Degree Program with University of Modena and Reggio Emilia Signed
A double-degree program between the University of Modena and Reggio Emilia and TU Wien has been signed. It allows selected students to obtain a double PhD degree in applied mathematics and/or information and communication technologies.
Dr. Leila Taghizadeh wins Hannspeter Winter Prize 2020
The Hannspeter Winter Prize is the annual prize for the best PhD thesis by a female student at TU Wien. Each of the eight departments may nominate at most one candidate, resulting in an interdisciplinary competition.
Dr. Leila Taghizadeh has been awarded the Hannspeter Winter Award 2020 of TU Wien for fundamental research in applied mathematics.
Congratulations to Leila!
Since her PhD defense in October 2019, Leila is a postdoc in my group Machine Learning and Uncertainty Quantification at the Institute of Analysis and Scientific Computing at TU Wien. Her work focuses on mathematical modeling, analysis, and simulation of stochastic PDE systems with applications in biology, medicine, and physics. Currently she is also working on uncertainty quantification in epidemiological models (applied to COVID-19).
12 PhD Positions at the University of Modena and Reggio Emilia
Twelve PhD positions are available for the PhD program in Information and Communication Technologies (ICT) at the Department of Engineering Enzo Ferrari of the University of Modena and Reggio Emilia on advanced research areas and topics in the fields of electronic engineering and computer science, as described here.
The Class on Reinforcement Learning is now Part of the Data-Science Curriculum at TU Wien
The lecture Reinforcement Learning (lecture with tutorial, 101.789 VU Reinforcement Learning, 4h, 6 ECTS) taught by Daniel Pasterk and myself, is now officially part of the curriculum for the MSc degree in Data Science in the module MLS/EX Machine Learning and Statistics – Extension.
New Initiative MLTUW
MLTUW is a new initiative that promotes the use of advanced and reliable machine-learning methods in science and technology at TU Wien. Please see the MLTUW page for more information.
15. ÖGOR Workshop Mathematische Ökonomie und Optimierung in der Energiewirtschaft (Postponed due to COVID-19 Pandemic)
Gemeinsam mit Ronald Hochreiter (Webster University), Daniel Huppmann (IIASA), Gerold Petritsch (EVN, ÖGOR) und Leopold Sögner (IHS) organisiere ich den 15. ÖGOR Workshop über Mathematische Ökonomie und Optimierung in der Energiewirtschaft vom 25. bis 26.6.2020 an der Webster University Wien. Offizielle Ankündigung.
Minisymposium Optimization and Model-Free Learning at SIAM MDS 2020 (Postponed due to COVID-19 Pandemic)
I am organizing the minisymposium on Optimization and Model-Free Learning at the SIAM Conference on Mathematics of Data Science (MDS20).
Thematic Program on Uncertainty Quantification in Spring 2020 (Postponed to 2022 due to COVID-19 Pandemic)
We will organize five workshops at the Erwin Schrödinger Institute (ESI) in Vienna within the thematic program Computational Uncertainty Quantification: Mathematical Foundations, Methodology and Data in spring 2020:
multilevel and multifidelity sampling methods in UQ for PDEs,
PDE-constrained Bayesian inverse UQ,
statistical estimation and deep learning in UQ for PDEs,
approximation of high-dimensional parametric PDEs in forward UQ,
UQ in kinetic and transport equations and in high-frequency wave propagation.
The homepage of the thematic program at ESI is here.
Open Position for a PhD Student
A position for a PhD student is available within a cooperation with the University of Udine, the details are here.
The position has been filled in the meantime.
Newspaper Article
Austrian national newspaper Der Standard wrote an article about my work: Forscher rechnen mit Nanotechnologie — Researchers Count on / Simulate Nanotechnology. (The German title contains a pun.)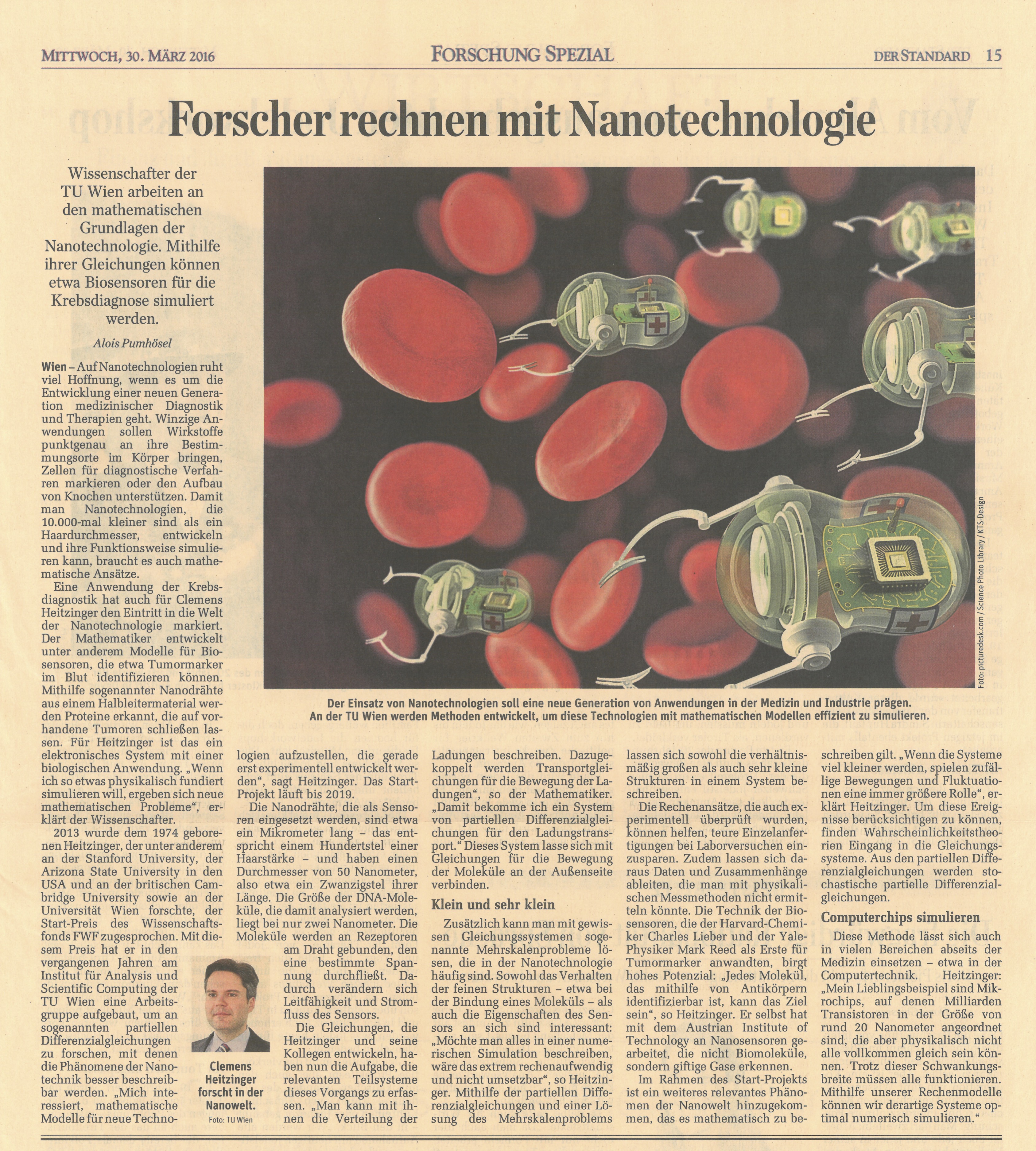 Group Photo October 2015
From left to right: Gudmund Pammer, Amirreza Khodadadian, Caroline Geiersbach, Leila Taghizadeh, Benjamin Stadlbauer, Gerhard Tulzer, Clemens Heitzinger. (Not shown: Andreas Buttinger-Kreuzhuber, Gregor Mitscha-Eibl.)
Open positions
I am looking for excellent and well-motivated
postdoctoral research assistants,
PhD students,
master's students, and
bachelor students
to work in the START Project PDE Models for Nanotechnology at TU Vienna.
You should have an excellent background in (stochastic) partial differential equations and/or numerical analysis. You should be able to write numerical codes in systems such as Julia, Matlab, or Mathematica.
If you are interested or have any question, just send me an email. If you want to apply, please send me your CV and a transcript.
Bezahlte Diplomarbeiten und Dissertationen
... biete ich am Institut für Analysis und Scientific Computing innerhalb des START-Projekts an.
King's Chapel, Cambridge, UK