New Initiative MLTUW
MLTUW is a new initiative that promotes the use of advanced and reliable machine-learning methods in science and technology at TU Wien. Please see the MLTUW page for more information.
Article in Austria Innovativ Spezial in March 2019
I was interviewed for an article in Austria Innovativ Spezial that appeared in March 2019.
Thematic Program on Uncertainty Quantification in Spring 2020
We will organize five workshops at the Erwin Schrödinger Institute (ESI) in Vienna within the thematic program Computational Uncertainty Quantification: Mathematical Foundations, Methodology and Data in spring 2020:
Multilevel and multifidelity sampling methods in UQ for PDEs,
PDE-constrained Bayesian inverse UQ,
Statistical estimation and deep learning in UQ for PDEs,
Approximation of high-dimensional parametric PDEs in forward UQ,
UQ in kinetic and transport equations and in high-frequency wave propagation.
The homepage of the thematic program at ESI as here.
VICEM Faculty Talk March 15, 2018
I gave the faculty talk entitled Nanoscale Sensors for Biomolecule Detection and DNA/RNA Sequencing: Theory and Applications at the VICEM Diploma Thesis Award Ceremony.
Science Talk 20 February 2017
Einladung als PDF-Datei, Link.
Podiumsdiskussion zum Thema Wie funktioniert Wissenschaft heute? Der Science Talk blickt "hinter die Kulissen" mit:
Univ.-Prof. Dr. Ulrike Felt, Universität Wien,

Assoz. Prof. Dipl.-Ing. Dr. Clemens Heitzinger, Technische Universität Wien,

Prof. Dr. Klement Tockner, Präsident des Fonds zur Förderung wissenschaftlicher Forschung (FWF),

Univ.-Prof. Mag. Dr. Susanne Weigelin-Schwierdrzik, Universität Wien.
Danach Überreichung der Auszeichnung Wissenschaftsbuch des Jahres durch Dr. Reinhold Mitterlehner, Vizekanzler und Bundesminister für Wissenschaft, Forschung und Wirtschaft.
Datum: 20. Februar 2017
Beginn: 18:00
Ort: Aula der Wissenschaften, Wollzeile 27a, 1010 Wien
Open Position for a PhD Student
A position for a PhD student is available within a cooperation with the University of Udine, the details are here.
The position has been filled in the meantime.
Newspaper Article
Austrian national newspaper Der Standard wrote an article about my work: Forscher rechnen mit Nanotechnologie --- Researchers Count on / Simulate Nanotechnology. (The German title contains a pun.)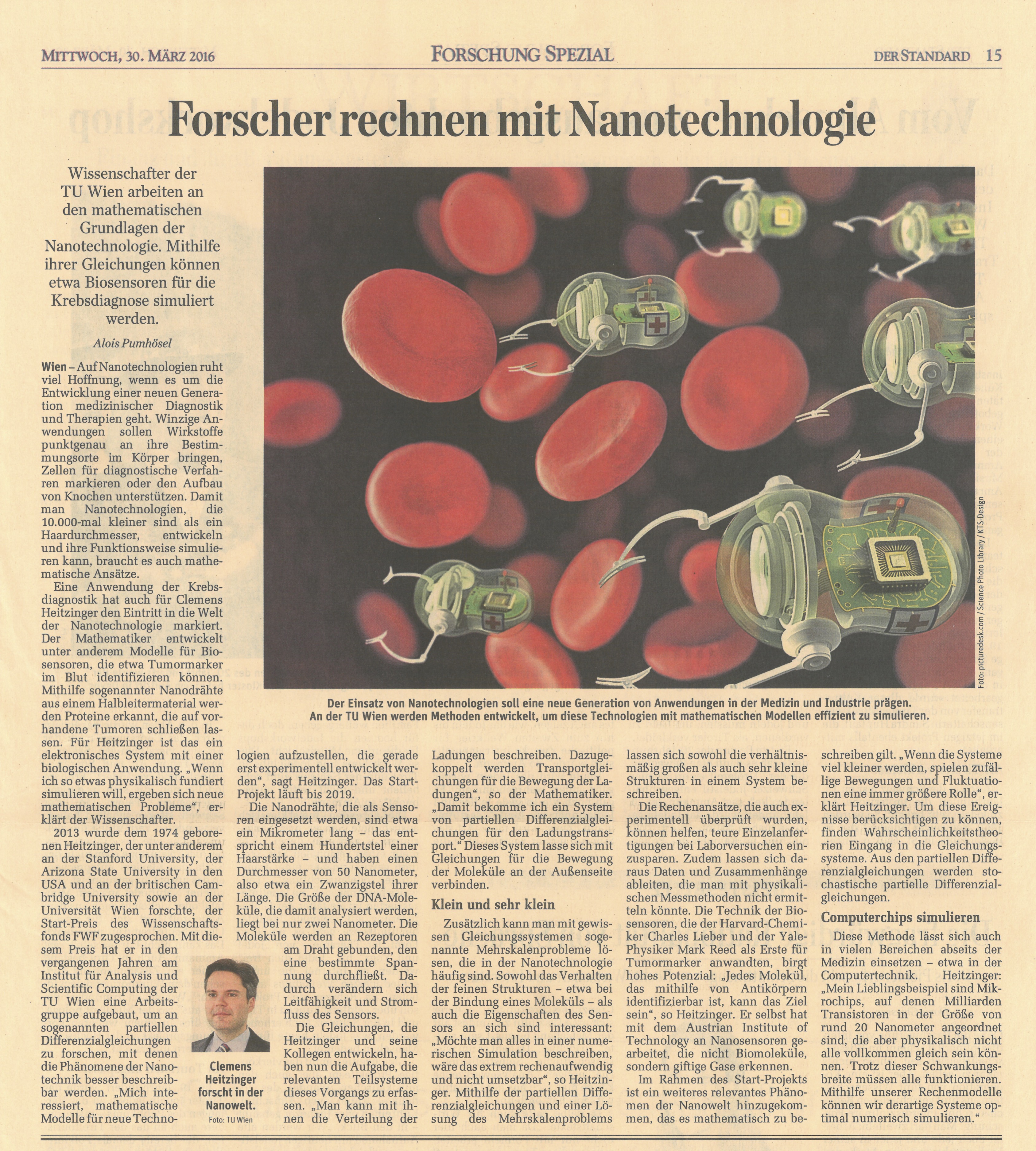 Exhibition Wunderkammer 2015 Celebrating 200 Years TU Vienna
The Exhibition
TU Vienna celebrated its 200th anniversary on November 6, 2015. To mark the occasion, the exhibition Wunderkammer 2015 was open to the public in TU Vienna's main building in November 2015. Its topic was What's Next?, bringing together science, technology, and art and familiarizing the general public with new developments. About 100 submissions were received by the organizers of Wunderkammer 2015, and about 30 were selected by a jury of experts. My group presented an overview of our work.
The Presentation
In addition to actual nanowire gas sensors and posters, we showed this presentation (in German). Special thanks to Benjamin Stadlbauer for preparing the presentation with nice animations and many explanations.
The presentation can be viewed here as a movie file. You can view it full-screen by clicking on the "enlarge" button; the movie file is 1920×1080.
Press and TV Coverage
This article, Neue Wunderwelten, reports from the exhibition and mentions us. Further articles are here and here.
ORF, Austria's largest TV station, reported about the opening of the exhibition. Visitors in front of our booth are shown here.
Gastkommentar in der Presse über die UG-Novelle 2015
My comment (Gastkommentar) on the law amendment changing the organization of Austrian universities appeared in the Austrian newspaper Die Presse on October 7, 2015.
Another Article about My Work
In May 2015, I was interviewed about my work at TU Vienna and the topic of the START Prize: Mathematik für die Nanotechnologie.
Article about My Work
In December 2013, I was interviewed about my work and the START Prize: Math researcher earns prestigious START Prize.